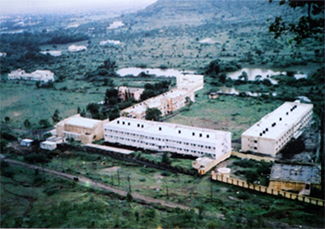 The infrastructure facilities include :
Buildings :
1. Departments :- 3 Buildings (G+1 Construction, One Floor
for One Department each)
Infrastructure of each Department :

2 Labs. admeasuring 40 x 30 ft. for M.Sc. I and II
1 Research Lab. admeasuring 40 x 30 ft.
1 Instrumentation Lab. admeasuring 30 x 20 ft.
2 Lecture Halls, 25 x 25fft., 30 x 20 ft.
1 Professor's Cabin, 25 x 15 ft.
1 Professor's Lab. 25 x 15 ft.
1 Reader's Lab. 25 x 15 ft.
1 Teacher's Common Room 25 x 20 ft.
1 Girl's Common Room 30 x 15 ft.
1 Boy's Common Room 30 x 15ft.
1 Staff Room 25 x 20 ft.
1 Store Room 40 x 25 ft.
1 Reading cum Departmental Library 30 x 15 ft.
1 Dark Room cum Photography Room 25 x 25 ft.
2. Administrative Building with Meeting Hall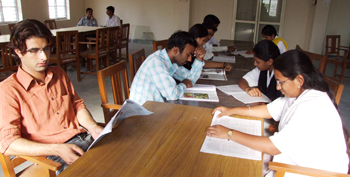 3. Library Building :-The institute has a separate spacious library building with adequate facilities. The collection of books and journals in Microbiology, Biotechnology and Biophysics is very selective. It has become a reference center for the students of Microbiology and Biotechnology to carry out further studies.

Click Here to know more about Library.

4. Hostels :- 1 – Girls Hostel (Capacity 60, Single Occupancy rooms)
1 – Boys Hostel (Capacity 30, Single Occupancy rooms)
The hostel buildings have entertainment hall, dining hall and kitchen. A rector quarter is also available in the premises of girl's hostel.
5. Director's Bungalow

6. Multipurpose Hall :- Multipurpose hall with four hundred seat capacity in the Institute campus is being used to organize Seminars / Conferences / Annual Social Gathering / Science Week celebrations and other guest lectures. It is also used for in-door games such as badminton, table tennis, chess, carom etc.
7. Quarters for Class IV Employees and Play Ground
The buildings and the total campus is maintained by Divisional office, Public Work Department, Government of Maharashtra. With the available administrative and maintenance staff the Institute is ensuring proper upkeep of the infrastructure and other amenities.
Instruments Available in the Institute :-

Gamma Irradiation Facility – Gamma Chamber 900
FPLC
Thermal Cycler (PCR System)
GEL Documentation System
Microprocessor based Fermentor
GAS Chromatography with Data Station
Microprocessor based BOD Analyzer
Microprocessor Based pH Analyzer
UV-VIS Spectrophotometer (PC based and Microprocessor Based)
Microprocessor Based CO2 Incubator
ELISA Reader
PC Based Thermo luminescence Analyzer
Ultrasonic Interferometer
Vertical and Submerged Gel Electrophoresis Units
DNA Sequencer
Dark Field Microscope
Phase Contrast
Microscope
Atomic Absorption Spectrophotometer
Computer Facilities

Click Here for more infrstructure photos